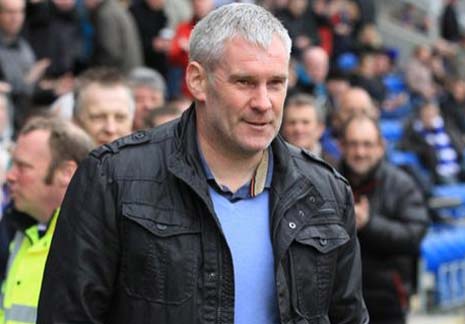 Last week, our host on Brilliant Books was pro footballer Tony Lormor who plied his trade around the country, with connections to almost every football club in the vicinity - including Mansfield Town, Lincoln City, Chesterfield and, briefly, the oldest football league club on earth, (and one of the most prestigious), Notts County.
His wiki lists his achievements as a footballer and below, you can see a video of his latest adventure, a trip to the North Pole
Tony was one of the most interesting of our Hosts, because at school, he was intelligent and destined for university until Newcastle United came calling and that, as they say, was that. He stopped reading, stopped any academic work and concentrated on football. Before that, you rarely found Tony without a book in his possession. The upshot of this was that at the end of his career, (an extremely amusing story about his last match at humble Telford United), he was left with nothing. No money, no qualifications and no future. With kids expectant, Tony had to work. He sold double glazing on the phone and door to door - a soul destroying job - and undertook many other menial, low paid roles before first working for Mansfield Town in the back offices (under the spectacularly dodgy Haslam regime) and then Chesterfield (which was much more stable).
A gentleman, a man of humour and a man to whom life has delivered some harsh lessons on which wisdom grows, he has developed a passion for reading again and also writing. Tony is planning two books. One of which is a story of his life after football and the other is an inspirational piece aimed at young professionals who, like him, are showered with money and glory and forget that one day they will have to join the rest of the world.
Brilliant Books is supported by the Big Lottery Fund
And that day comes sooner than many of the young football apprentices think.
He gave a brilliant talk and the kids loved what he had to say. Tony promised that he would read the short stories the kids will produce and we'll make sure he gets a copy of Scribes of Seely II.
Then Tony got the kids doing some football style warm ups around the hall...
After fruit and recreation, Phil gave the kids an exercise, which they attacked with gusto
or otherwise and then, finally, the kids read from their short stories. Bear in mind that these stories didn' exist three weeks ago except in note form, this was impressive stuff.
For parents of the young people on Brilliant Books, there will be a page of videos where you can see your children reading their stories. This is in production.
This was a terrific session and, like most of the sessions this half of Brilliant Books, a memorable one. Next week is the last Brilliant Books at Seely (for now, we hope) and we've all had a great time.
The last session will be run by Dom Gourley, music journalist who is bringing local band April Towers, recently featured on Radio 1
Should be a LOT of fun...